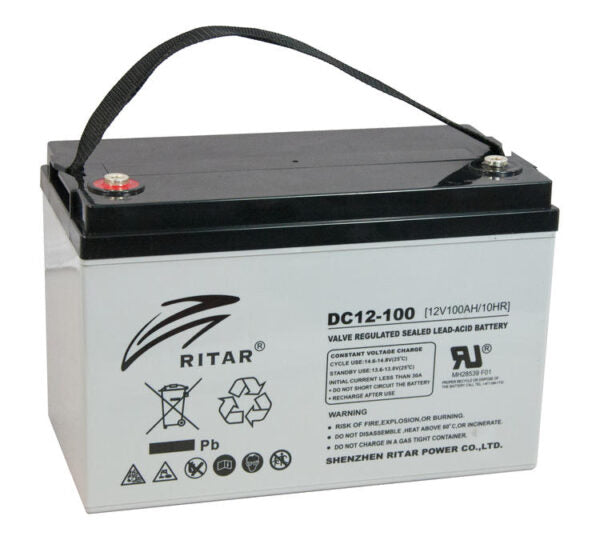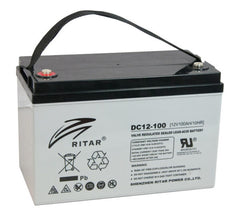 Ritar - 12V 100Ah Deep cycle AGM-batteri (DC12-100)
Sold out
Ritar 12 V batterier är avsedda för elförbrukning i kombination med tex solpaneler för att användas i båtar, husbilar, husvagnar och liknande fordon. Dessa batterier är ventilreglerade blybatterier som är speciellt utformade för att klara hög cyklingstålighet, det vill säga frekventa laddnings- och urladdningscykler.
Dessa batterier erbjuder upp till tre gånger mer tillgänglig energi jämfört med konventionella batterier. De är också konstruerade för att vara tippsäkra upp till en vinkel på 90° och håller vibrationsklass V3, vilket gör dem mer lämpliga för användning i fordon där de kan utsättas för rörelser och skakningar.
Det bör noteras att det kan finnas avvikelser i utseendet på bilderna jämfört med den faktiska produkten. 
Specifikationer:
Spänning 12V
Antal i- och urladdningar 100% 300cykler
Antal i- och urladdningar 50% 600cykler
Antal i- och urladdningar 30% 1500cykler

Mått (LxBxD) 328 x 172 x 220mm
Vikt 29Kg
Shipping is calculated at checkout
The applicable prices are as follows: When buying smaller items, the cost of shipping is from SEK 99 including VAT. When buying panels, the cost of shipping is from SEK 995 including VAT. We mainly use Postnord or DHL. We always offer free collection from us in Tullinge, Södra Stockholm.