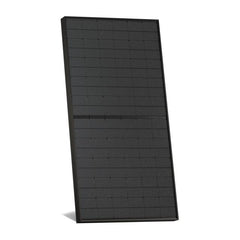 Meyer Burger - 380 Wp All Black Solar Panel
Sold out
Meyer Burger (MB) has refined existing heterojunction (HJT) technology and made it more efficient by combining different silicon layers and creating a unique cell structure. Meyer Burger HJT cells thus absorb significantly more solar energy than conventional cells and the converted electrical current flows through the module with less resistance. And it does this even in weak sunlight, for example when it is cloudy. Further efficiency gains are achieved by connecting the cells with their patented SmartWire technology (SWCT™): the wafer-thin connection wires reduce shading on the solar cells by up to 30 percent. The modules thus receive more energy and produce electricity for longer - for noticeably more power per surface area on the roof. SWCT™ also improves cell stability and makes the modules less susceptible to so-called microcracks, one of the most common causes of energy losses in solar modules. And best of all, this unparalleled performance is only available from Meyer Burger thanks to extensive patent protection.
Connection connector : Mc4
Max power : 380W
Color of the frame : Black
Panel technology : Mono
Number of cells: 120 pcs
Size in mm: L: 1767 mm W: 1041 mm H: 35 mm
Weight : 19.7 kg
Cable length, plus : 1200 mm
Cable length, minus : 1200 mm

Guarantees:
25 year product warranty
Performance guarantee after 25 years: 92%
Shipping is calculated at checkout
The applicable prices are as follows: When buying smaller items, the cost of shipping is from SEK 99 including VAT. When buying panels, the cost of shipping is from SEK 995 including VAT. We mainly use Postnord or DHL. We always offer free collection from us in Tullinge, Södra Stockholm.