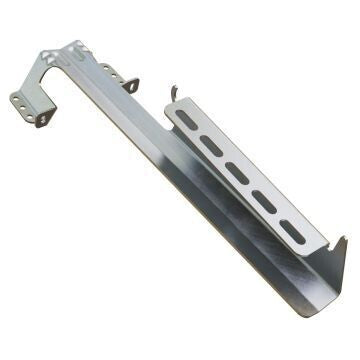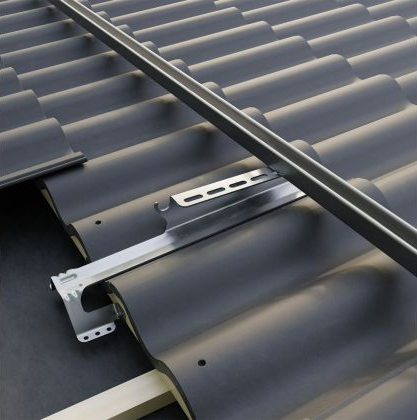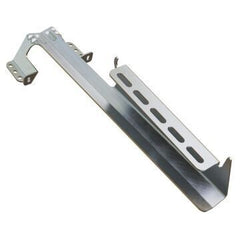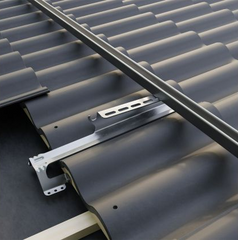 MAFI - Roof Tile Bracket (91267)
Sold out
MAFI - Roof Tile Bracket (91267)
The mount for the solar cells is a two-in-one mount that enables it to be attached to the roof battens or raw rafters, which enables the installation of solar panels on most roofs in Sweden. The solar cell mount is manufactured by Magnelis and is IP protected, which makes it perfect for installation in Swedish conditions.

The roof hook is profiled to follow the shape of a curved roof tile to enable installation without having to sand or shift the tiles.
For the bracket, Solar Rail is used, which can be installed both vertically and horizontally on the roof hook for mounting in both landscape and portrait with the same hook. When installed horizontally, the bracket has a versatile hole pattern to match the panel clamping zone and a stop hook to temporarily support the Solar Rail prior to installation.
It is also supplied with a fixing option for Ø20 mm flex pipe which is integrated in the bracket.
This hook must be fitted together with screws from MAFI to attach it to either the lath or the raw sheet.

Sku: 91267


MAFI's attachments for Swedish roof
MAFI's Swedish fixings for solar cells are a complete collection of products and solutions that are specially designed to safely and stably mount solar cell systems in Sweden. The range includes different types of fasteners, braces, rails and clamps that are developed to fit different types of roofs and substrates.
The fasteners from MAFI are designed with a focus on durability, safety and ease of installation. The products are made of high-quality material that can withstand the Swedish weather conditions and temperature variations.
The fastening elements are designed to ensure a stable and reliable mounting of the solar panels. Braces and rails add extra strength and durability to the installation, while clamps hold the solar panels securely in place.
With MAFI's Swedish fixings, installers and home fixers can feel confident that they have access to reliable and high-quality products to safely mount solar systems and maximize solar energy production.
Shipping is calculated at checkout
The applicable prices are as follows: When buying smaller items, the cost of shipping is from SEK 99 including VAT. When buying panels, the cost of shipping is from SEK 995 including VAT. We mainly use Postnord or DHL. We always offer free collection from us in Tullinge, Södra Stockholm.