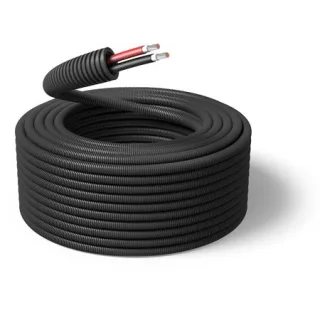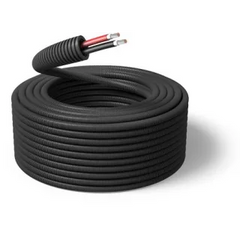 Flex tube - Flexible solar cell cable 2x4 mm sold per meter
Sold out
Flex tube - Flexible solar cell cable 2x4 mm sold per meter
Flex pipe with pre-drawn cable for solar cells black and red. Halogen-free UV-resistant flex tubes, approved for installation within -5°C to +90°C and embedment up to 750N.
Pre-tensioned cable intended for installation of solar panels 4mm2. H1Z2Z2-K is a double-insulated halogen-free copper cable with low smoke generation.

Tested and approved according to EN 50618, IEC 62930 and TÜV. CPR class Cca-s1b,d2,a1. Water resistance class AD8. Rated voltage 1.0 kV AC or 1.5 kV DC.
Sold by the meter.
Shipping is calculated at checkout
The applicable prices are as follows: When buying smaller items, the cost of shipping is from SEK 99 including VAT. When buying panels, the cost of shipping is from SEK 995 including VAT. We mainly use Postnord or DHL. We always offer free collection from us in Tullinge, Södra Stockholm.